Beitragesbild: Bürgerscholle Belo Monte (1)
Plant material, earth, findings acrylic on GFK, 100x100x10-20 cm, Betty Beier (2017)
Place and date of taking: Rainforest near Altamira (Para), Brazil, 23.06.2014: S 03°17.608, W 052°13.495
Der Belo-Monte-Damis the third largest and at the same time most controversial dam on earth and is known as the "Monster Dam". The first turbines were put into operation on 5 May 2016 in the presence of President Dilma Roussef. Large areas of the rainforest have already sunk into floods. Farmland and villages are affected by the flooding. Thousands of people have been resettled. The size of the flooded area is approximately equal to that of Lake Constance.
The Xingu River is one of the last intact river systems in Brazil. Its biodiversity is often described as breathtaking. Even before the great river bend of the Xingu, there is the first dam. From here on the river loses a lot of water. Many indigenous tribes live in this loop, whose waterways are cut off by drainage. The Xingu river and with it the livelihood of the indigenous peoples will be destroyed.
The Belo Monte dam is a prestige project of the Brazilian government. European companies like Votiv Hydro, Alstom, Andritz and Siemens are also involved in the project. The operating consortium is accused not only of human rights violations but also of ethnocide. There have been numerous complaints. Even Carl Siemens (a member of the Siemens family) criticizes the company's involvement in the Belo Monte project. Scientists fear that the deforestation of the rainforest will have negative effects on the entire global climate.
The power plant, with its two reservoirs (668 square kilometers), is to generate a total of 11000 megawatts of electricity.
On 18.09.2015, with the help of Amanda and members of the group "Xingo Vivo", I take an imprint on the demolition site of Antonia Melo. Antônia had to vacate her house last week. She fought back until the very end. All houses in the neighborhood had already been destroyed.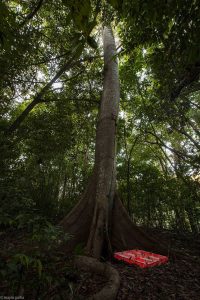 23. Juni 2014:
Foto: Mayra Gahla
Mein Projekt "Spurensicherung im Amazonas" ist noch nicht abgeschlossen.
---
---